What is Global Reit?
Global Reit is a blockchain based, Sharia-compliant REIT. Similar to a traditional REIT, the platform will allow individual investors to invest in global real estate markets without needing to purchase the entire property. These properties will be held under management of Global Reit, who will handle all compliance and management roles, whilst the investors in the property will be paid dividends on profit generated via these properties, these dividends will be paid out monthly.
The platform aims to make its first property acquisition of a hotel in The Palm Dubai in June 2018, shortly after the launch of its ICO in the same month. From here, the platform plans to make successive purchases in the United Arab Emirates (U.A.E) initially, before expanding into global markets. Global Reit aims to have a net asset value of approximately USD 75 million in June 2018, and growing to approximately USD 3 billion within 3 years (by 2021), and projected to reach USD 10 billion by the end of 5 years.
Global Reit aims to offer an approximately 8% yield to GRET token holders based on the assured value of its first planned acquisition. Besides this, GREM token holders will also be offered a 2% yield (based on net asset value), which will decrease to 1.25% once the platform has matured.
Pre-ICO, ICO and Token Details
During the pre-ICO and ICO, the conversion ratio will be locked at 1 GRET = 1 USD. However, the token sale offers a different level of bonus depending on how early you invest. Unlike many ICOs, the platform is actually selling two different tokens: GRET and GREM tokens which have different values, as GREM is locked to 1 GREM = 0.70 USD.

The pre-ICO for both GRET and GREM opens on the 1st of May 2018, and ends on the 31st of May 2018. There are 12,150,000 GRET tokens available for purchase, and 57,857,143 GREM tokens available (out of a total supply of 75 million and 200 million respectively). The soft cap is 1.25M for GREM sales, and 3.75M for GRET sales during this period.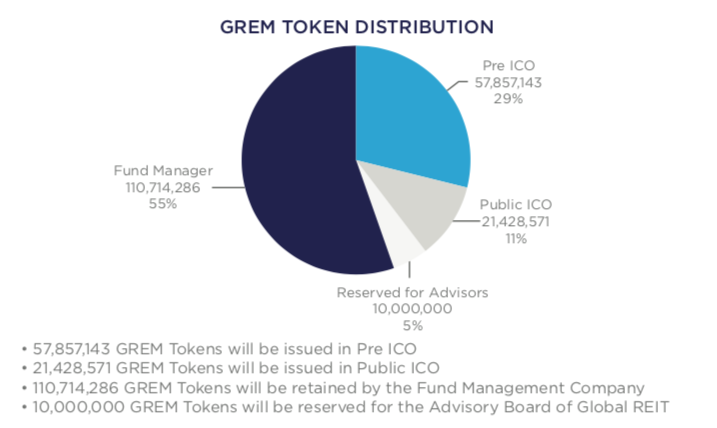 The platform will be issuing two separate tokens for sale, GREM and GRET. These differ in value and utility so make sure to recognise the distinction between the two when choosing to invest.
Global Reit is holding two separate token sales for its GRET and GREM tokens. These differ in value, supply and utility.
The pre-ICO is followed by the main ICO for the GRET and GREM tokens beginning on the 1st of June 2018, and extending until the 30th of June 2018. This time, there will be 21,428,000 GREM, and 4,500,000 GRET tokens available during this period, with a hard cap of 5,000,000 GREM and 15,000,000 GRET set in place. Being based on the ERC-20 standard, it is essential that contributes use an ERC-20 compliant wallet to receive their tokens. You can participate in the Global Reit token sale using Bitcoin, Ethereum, and unlike many ICOs, you can also contribute with fiat currency.
Our verdict
In our opinion, the Global Reit project brings a number of novel ideas to the industry, by allowing investors two separate investment options in the form of its GRET and GREM tokens. Furthermore, the project opens a blockchain based Reit investment platform to Islamic countries by being Sharia compliant, certainly a rare trait indeed for an ICO.
The project has a strong roadmap that sees it taking on at least four assets by the end of 2018. Its projections to achieve $10B in asset value in 5 years do seem overoptimistic to us, as although the project certainly has promise, seeing a 50 fold improvement in asset value within such a short time frame is almost unheard of. That being said, the team behind the project is strong, with a great entrepreneurship and real estate background. Because of its strengths, we award this project a 9/10 score. In our opinion, the project is likely to succeed at least for the near future.
For more information about the Global Reit platform, please see;
Or to ask questions, or discuss the project;