The world of today is staggeringly different from the world just a few decades ago, jobs that were commonplace in the old days, are typically all but abolished, or have been taken over by automated systems. However, this progress has also lead to the development of new industries and sectors that require entirely unique, and sometimes specialized skill-sets. However, the demand for new and specific skills makes it ever more difficult for professional and personal profiles to exactly match the requirements of the market. Skyllz believes that making these skills tangible via their platform is a key factor in meeting the needs of this fast-changing environment.
Skyllz is an open-source, blockchain-based skills validation protocol. The purpose of the platform is the build an ecosystem where users can demonstrate their skills and talents, whilst enabling them to learn new ones. The project is a unified system that allows individuals to assess and monitor their skills, share skills with each other and demonstrate competency for a role without unnecessary restrictions. The Skyllz distributed platform looks to allow users to validate their skills across Stapps using their proof-of-skill system (Skyllz reputation), whilst allowing them to finance their own learning and self-development using the Skyllz token, further improving their profile.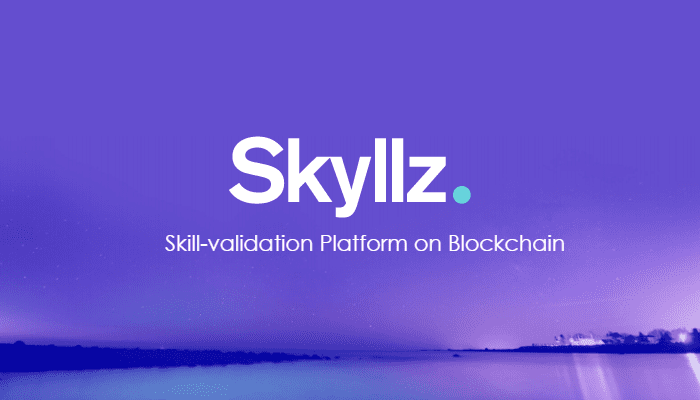 Using its proof-of-skill system, Skyllz will let users validate their skills across multiple platforms
The Skyllz Distributed Platform (SDF) allows the open-source distributed blockchain community to develop STapps that can be used across platforms, allowing users to built out their profile with skills acquired on sites plugged into the Skyllz network, with hopes to get huge E-learning platforms like such Courera, Udemy and others on board to massively simplify this process.
If the Skyllz Distributed Platform is build on the Ethereum blockchain as an ERC-20 token. The ticker for Skyllz token is SKT, and these tokens are used within the platform to make payments for services, material and other content available via the platform, allowing users to test their skills, gain new ones, and certify current ones.
SKT has a fixed supply, and can be used for rewarding Raters, which are individuals deciding whether a user should be given a certain amount of proof-of-skill for a specific skills, or can be used to confirm the conditions of a smart-contract were met. Over time, it is thought that the proof-of-skill will come close to representing the different skills levels involved for a particular ability, and so will be able to distinguish individuals on their true skill, rather than simply qualifications or interviews.
The team behind Skyllz come from a wide range of backgrounds, with a large amount of experience in related industries, including blockchain, startups, coaching and engineering. The founders of the team are Alvaro Marceno, Jesús Ávila and Antonio Román, a group who had previously spent over 2.5 years together working at Workkola (the parent of Skyllz). Besides this the rest of the team consists of 6 other members, Alejandro Jurado, Giorgio Fidei, Elsa Camí, Ilenia Piana, Hugo Immink, Brice Chalopet which cover a wide range of technical and non-technical backgrounds
Our Opinion;
In a fast paced world, a lot has changed in a short space of time. Skyllz identifies a real need to better express the skills of individuals and workers, as the final days of the resumé are long overdue. The platform allows users to put their best put forwards, and demonstrate their skills using their unique proof-of-skill system which we think might just be the successor to the antiquated resumé. We believe that the success of the platform hinges on acquiring major partnerships with established players in related fields, such as LinkedIn and Udemy, which would allow Skyllz to thrive as an ecosystem.