Decoin

l

ooks to take the cryptocurrency trading industry to the next level by offering an exchange platform with profit sharing as its backbone.

Decoin

promises its users

top notch

security, protecting their funds from the multitude of malicious attacks that tend to befall exchanges, whilst only keeping 3% of stored funds in active wallets, minimizing the number of attempts it receives.
The platform encompasses its own proprietary digital currency 'Decoin' (DTEP), holders of which will be entitled to a proportional fraction of the revenue from the exchange. Decoin guarantees that stakeholders will receive an annual return of 6.2% with the help of its proof of stake consensus algorithm and limited supply.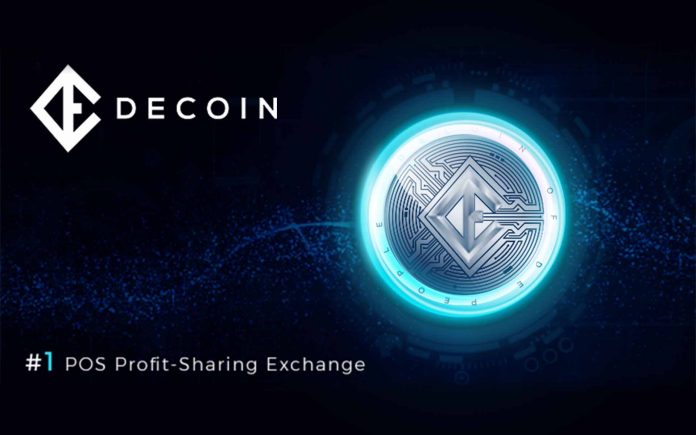 Unlike other exchanges, Decoin shares its revenue with its token holders (source)
Besides this, Decoin also offers D-TEP credit cards to coin holders, allowing owners to spend their digital currency whenever they want, whereas they are. Decoin plan to offer card holders with access to rebates, and discounts for a variety of stores, and offers several types of cards depending on the amount invested in Decoin ($2,000 - $100,000). For the first time, traders will be able to instantly liquidize their funds using their D-TEP credit card.
Why is Decoin special?
The Decoin platform offers several novel improvements over other exchanges, and also offers features that make life a lot easier for traders, whether new or experienced:
Highly Scalable –

The Decoin platform is capable of executing up to 1 million matches per second, putting Decoin up there as one of the most scalable exchanges to date, allowing it to keep up with huge trade volumes expected in 2018 and beyond.
Crypto Index –

Decoin will be looking to make trading as profitable as possible for all its users by launching its first crypto index, where companies listing their coin through Decoin will be able to influence the value of Decoin, whilst users will also be able to benefit from index investment cash-outs.
Trading Tools –

Unlike many exchanges, Decoin will be looking to bring advances trading tools to its users and plans to offer tools for more advanced trading contracts, such as CFDs.
Extreme Security –

Unlike other exchanges which are frequently the target of hacks and theft attempts, Decoin will follow industry leading standards to secure its platform and user funds, whilst using a multi-layered authentication platform to provide maximum security to its user base.

Our review
There have been several recent ICOs looking to innovate on the exchange format, all promising various improvements in either scalability, speed, platform fees or liquidity. However, very few of these look to take the leap into crypto-fiat exchange due to the regulatory challenges involved.
The team behind the project is relatively strong, having significant experience within the finance industry, but seem to lack experience in the crypto industry, having only a single blockchain developer on board, with 8 advisors on board, none of which are big names or highly influential people.
Overall, dozens of ICOs enter the market every month, and a significant portion of them overpromise and underdeliver. So far, Decoin has received significant interest from the investment community and has currently raised $3.6 million out of a $30 million hard cap, no small task given the current conditions of the market.
Though we love the concept, and would like to believe the team will pull it off, we remain to be convinced. Until then, we give this project a 6.8/10, there is potential for greatness, but tangible evidence is needed before extraordinary claims are to be believed.
If you found this interesting, you can find out more below;
Bitcointalk username: jamalaezaz
Ethereum address: 0x05CAbdFE623E127a034B19349180984E8bB051C5